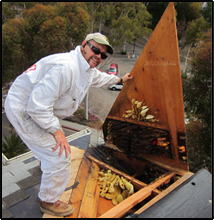 Have bees built a hive inside the wall or roof of your home? Believe it or not, it's quite common for bees to build a hive inside the structure of your home. We at Bee Best Bee Removal are experts at removing hives from structures. In fact, it is one of the most common services we provide. Sometimes we can even remove the bees alive if the conditions are right.
The first step in removing a hive from a structure is to identify where the bees are located and figure out how long they have been there for. The next step is figuring out how to open the structure in order to remove the bees and hive safely. The last step is to ensure the bees don't return. Bee Best Bee Removal has performed thousands of hive removals from structures for over 20 years. We are fully licensed, bonded, and insured for your protection. We have an A+ rating with the BBB and take on jobs other companies find too difficult.
If you would like to schedule an appointment to receive an estimate for a hive removal, give us a call.